Cryptocurrency Lawyer California
We are California bitcoin lawyers that focus on cryptocurrency and blockchain technology. Before the use of cryptocurrency, and before law firms took up focus in digital currency, we were assisting businesses with their legal issues concerning Bitcoin, Ethereum, and other types of cryptocurrency.
When most real estate and business investment industries in California adopted cryptocurrency into their transactions, we were already experienced in this space. We assist our clients during Initial Coin Offerings (ICO), when they want to pursue an investment in the digital currency space, or when they simply need to stay compliant with regulatory policies.
Digital currencies like Bitcoin, Ethereum, and others have various positive applications for your company. One of the best examples is the safety of all data that involves your cryptocurrency assets and investment information.
Blockchain technology offers ledger services that business partners can share with their investors. Whenever you interact with your assets or put a new entry in the shared ledger, every action within the document is timestamped in the blockchain. It creates a safe space where your assets, even your intellectual property can be secured.
The use of blockchain technology eased many companies' concerns regarding their ledgers. To set this up for your business in California, you need a California lawyer to sift through all the complications and prepare the secure digital ledger you can use for your business.
As your trusted cryptocurrency lawyers, we ensure that you are provided with the complete documents, the best legal protection, and the organized business formation  ̶ nothing less. As a cryptocurrency firm, we see to it that our counsel is focused on giving you the best solution and enable you to thrive in the state of California.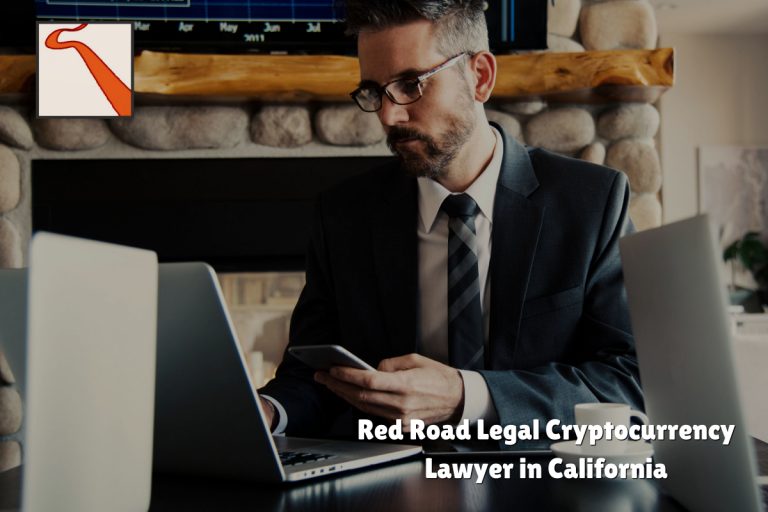 Red Road Legal Services in California
Legal Advice & Business Law
As a firm, we assist our clients in matters regarding civil law. Our expert cryptocurrency attorney has represented various individuals and businesses. We spared no expense in using our wide range of resources, knowledge in business law, and our years of practice to help our clients achieve their goals. After several years of practice, we have expanded our expertise in business law, spanning from commercial, banking, probate, to real estate.
We have clients that have retained our firm because of the benefit they get from our services. With regards to cryptocurrency and digital coin, our roster of experienced digital currency lawyers have assisted our existing clients in their transactions.
Serious legal concerns such as smart contracts, real estate planning, intellectual property law, and corporate litigation are the forte of our roster of California lawyers. We provide practical and solutions-driven counsel when you are faced with legal issues so your business can avoid unnecessary risks. Even when you are facing legal matters regarding your consumer, we can provide you with the legal defense and counsel to protect your business—your life's work and your investment.
Working for years with businesses in Los Angeles, we understand that business owners want to work with digital currency attorneys that has an impressive track record in their practice. That is why we always see to it that we're continuously improving. We meet with our clients personally, and we work hard to protect their assets and interests.
Get in touch with Red Road Legal now for your business' legal concerns in California. Protect your assets and interests as you grow your business, take the Red Road.
Distributed Ledger Tech Firm Based In California
Bitcoin, Ethereum and other types of cryptocurrency have recently taken over in the economic and commercial scene in California. The arrival of the digital coin is the application of distributed ledger technologies across various industries. This is, without a doubt, a significant innovation in business in the US.
The wave of innovation, however, brought with it new legal and regulatory concerns that businesses have to worry about. Fortunately for your business in California, Red Road legal is here to assist them in these matters. Our lawyers are ready to provide technical legal advice to businesses across industries. Our legal knowledge, experience, and our incomparable quality of service will help our clients gain an advantage and thrive in this continuously-evolving space.
Our legal practice involving digital currency is backed up by a global network of experts that can assist your business in matters such as:
Company Financing and Formation

Regulatory Compliance to Securities Laws and State Regulations

Protection of Assets (Real Estate, Crypto-assets, etc.)

Initial Coin Offerings, and more.
Whether you're an investor, a consumer, or an innovator, Red Road Legal is your competent digital currency lawyer that will be with you as you navigate through this space.
Part of our excellent legal service is providing legal protection for FinTech innovators as they develop tools that would help other firms establish peer-to-peer lending, digital banking, and other payment platforms for digital currency. We've also assisted financial institutions and companies on tax structuring, consumer protection, capital raising, and commercial contracts.
When we first served companies in the digital currency industry, we have observed how technology enables companies and institutions to innovate business stability. We know how important it is to secure one's assets, the safe-keeping of corporate data, comply with regulatory laws, and protect real estate assets. Since then, we've been passionately serving firms, individuals, and institutions as they continue to innovate the way we do business.
Blockchain/ Cryptocurrency Asset Legal Consultation
Ideally, the blockchain and other distributed ledger technologies are safe spaces where you can move your assets and remain in control. Despite its design to keep your assets safe, complications can still happen inside the industry.
When Bitcoin entered into the American market, Red Road Legal has been at the forefront of this economic evolution. For years, we've been providing legal counsel that will help them make the most out of their investment in this space.
Our attorneys from Red Road Legal are collaborators. Every move we encourage our clients to take towards their investment is thought through by a group of experienced legal professionals. We apply this approach to ensure that your real estate and cryptocurrency assets are always within your control.
We've assisted clients in establishing new exchange platforms for cryptocurrencies. We have helped in growing their startup by meeting their needs in licensing, policy drafting, and setting up monetary services.
We've represented individuals and companies from various industries. We've given legal advice to companies that utilize blockchain platforms. We are your trusted advisers whenever you need a legal basis on an ICO.
Red Road Legal attorneys are your counselors on various legal concerns such as consumer protection requirements, payment and licensing, data privacy and the continuous scrutiny of the authorities in cryptocurrency assets.
Expert Witness Attorney in California
To give an expert witness testimony is to be the beacon of relevant insight that the case can use to hasten its resolution. Red Road Legal attorneys are thought-leaders in the field of cryptocurrency. Our in-depth subject matter knowledge enables us to deliver our testimony concisely and logically. Stating facts of the case in a way that can be easily understood.
We have given expert witness testimonies in many high-profile legal cases. Each one has helped the jury and the authorities reach a swift decision. It is through our experience and expertise in the given subject matter than it enables us to be instruments of just resolutions. We offer this service to firms in Los Angeles, Sacramento, and other locations in the State.
Trust your Red Road Legal attorney to give you the best expert witness service in California.
You can also check other attorneys we have in your area like in Texas or CALL US NOW (888) 443-5485