Technology, since its emergence, has dominated our personal and professional lives. Our growing fascination with the digital world has not only influenced our behavior and experiences, but it has also reshaped our preferences and expectations. Almost every day new products and applications are launched in the market to address our constantly changing needs and satisfy our increasing demands. The transformation, however, does not end there. It has also shaken up our financial lives with the explosive rise of the cryptocurrency sphere. The existence of digital currencies which was partly propelled by the rapid advancement of the internet is arguably the biggest and most astounding change that the financial realm has ever witnessed. Despite the lack of digital currency regulations and increasing uncertainty surrounding the market, many have put their savings into cryptocurrencies in the hope of creating more wealth.
The Growing Popularity of Digital Currency
Since its inception, the digital currency has continued to gain widespread acceptance and momentum. This trend is expected to grow as more and more enthusiasts recognize the benefits and potential of cryptocurrency to become a more convenient alternative to traditional money and a dominant force in the world of finance. One of the risks of investing in digital currency is that it is inherently volatile which means that its value is highly unpredictable and could significantly drop in just a period of time. The last few months, indeed, have not been good for cryptocurrency investors, particularly those who invested in Bitcoin. A plunge in value can mean heavy losses in saving and worse bankruptcy. However, while cryptocurrency has consistently experienced significant drops in value, it continues to gain massive interest from entrepreneurs and enthusiasts. Many investors, especially risk-takers, still see digital currency as a good investment and it cannot be denied that much of this fascination comes from the potential of virtual currencies to do almost everything. While it may sound surprising, cryptocurrency has a plethora of awesome uses that not only offers convenience but also real lucrative gains.
Amazing Uses of Digital Currency
One of the major uses of cryptocurrency is in the area of education. Nowadays, more and more reputable universities are accepting digital currencies such as Bitcoin as payment for tuition fees. Some schools, on the other hand, have put up on-site shops where students can purchase books and supplies using Bitcoin. The number of students using Bitcoin has also soared as a result of cryptocurrency's growing relevance and acceptance into the mainstream. Aside from providing a convenient mode of payment, it also helps students deal with their educational expenses. A college education is expensive, and students who don't have enough cash upfront will find it increasingly challenging to meet their financial obligations to continue their education. The growing recognition of Bitcoin as a valid method of payment across various universities have opened up opportunities for students searching for non-traditional means to fund their education. Moreover, because Bitcoin is interchangeable and does not require special transfer fees, it provides an attractive option for exchange university students.
Digital currencies can also be a useful tool in wealth management. The concept of wealth management has dramatically evolved since its early years, yet it remains a challenging business. With the existence of firms that develop tokens for investments, it is now possible for investors to manage their wealth without restrictions.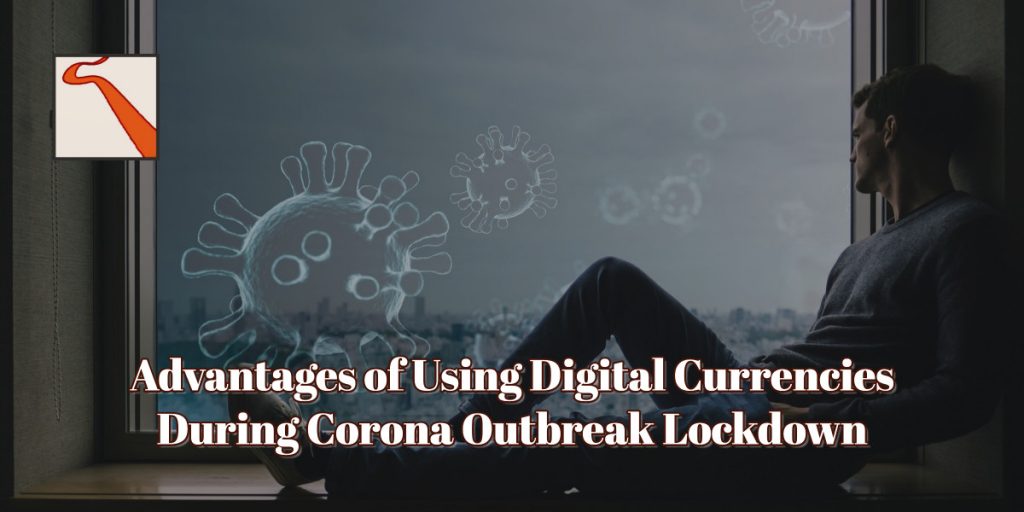 The Benefits of Using Cryptocurrency During the Coronavirus Lockdown
The use of digital currency helps curb the spread of the virus by providing a digital alternative to physical cash.
As the coronavirus outbreak continues to spread across the globe, several countries, especially those that have been hit hard, are implementing drastic measures to contain the circulation of the virus. In an effort to break the chain of the virus, governments have intensified their response by implementing total lockdown in their respective territories. The aim of the lockdown is to ensure the safety of its citizens. While this extreme measure has partly suppressed the spread of the novel coronavirus, the impact on the economies has been disastrous. It is no exaggeration to state that the coronavirus pandemic has become one of the largest threats to global economic stability and financial industries. The pattern of plunging stock prices and bond yields has catapulted the financial realm into a state of panic. The cryptocurrency market, on the other hand, has seen a chance to show its potential amidst the crisis. One of the benefits of using digital currencies is that it offers a contactless method of payment.
The idea that viruses can live and survive on objects and surfaces has led to the assumption that banknotes, coins and other forms of physical currency are capable of transmitting the novel coronavirus and can vastly expose us to a COVID-19 infection. According to health experts, banknotes carry some risk of spreading the virus, but the risk of person-to-person transmission is small. However, with the rapid spread of novel coronavirus infections, a huge number of consumers have stopped using cash and other traditional currencies in fear of being infected. In today's growing health crisis, shifting from physical currencies can be a viable option. Since cryptocurrency transactions are performed on a digital platform, there is no single possibility that it will become a transmission route for the novel coronavirus.
Digital Currencies can be a good source of passive income.
The crippling impact of ongoing coronavirus has forced businesses to close, leaving many jobless and financially strapped. Surviving in these uncertain times can be a tough struggle especially for people who do not have a pool of savings to fall back on. While it is not good to panic, it is totally fine to be worried about our financial state. What most of us are concerned about right now is how we can make ends meet without a reliable and steady source of earnings. The fortunate thing is, there are many ways to earn even while at home and one is by performing microtasks. There are a number of platforms today that enable individuals to get paid in cryptocurrency for completing small tasks. The tasks may include viewing advertisements, filling out online surveys and answering questions. Though the pay is a bit low, microtasks are a good way to stay financially afloat in these uncertain times.
Investing in cryptocurrency offers a range of incredible financial benefits, but it can be a notoriously difficult space to navigate, especially for people who don't have a fair idea of how the market works. Because of the lack of digital currency regulations, engaging in cryptocurrency activities can be a bit complex and confusing. Without adequate knowledge and proper planning, potential investors may end up losing the bulk of their time and hard-earned resources. Hiring a cryptocurrency lawyer can help would-be investors eliminate the ambiguity surrounding the market and respond effectively to risk and opportunities.